The Total Reuse clearance team have just tendered for and won the contract to clear the contents from the Derby Buildings on the Greenbank complex.
ULCCO-SP are the Universities construction company and they are currently undertaking a multi million pound redevelopment of the Greenbank complex in Mossley Hill.
The job,  involves building new halls of residence, demolishing old ones and refurbishing Derby Hall.
The in-house construction team was formed at the time of the collapse of student accommodation specialist Ocon to finish a major student hall project at the university.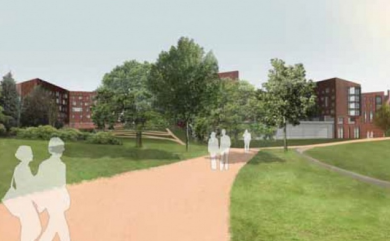 The latest student village scheme will deliver 1,370 new or refurbished rooms in total and include a two-storey sports hall.
It forms part of a £250m masterplan by the university to build and upgrade accommodation at its city and Mossley Hill base.
New housing blocks are to be set around three landscaped courtyards and will rise to 5-8 storeys.
The site contains a mix of buildings including Greenbank House, the Grade II* listed former home of the Rathbones, founding members of the University of Liverpool and Derby Old Court, the first hall of residence on the site. These are the buildings that Total Reuse are clearing.
The contract follows on from the success at the Melville Grove development and is the first time that Total Reuse have undertaken work adhering to the rules and regulations on a construction site.
Director of Operations Jamie Monks said: "This is a lot different to how we normally work but it is an important and natural progression for the companies development. If we want to divert reusable items to good causes, we need to be in the right place at the right time. The support we have received from the staff at ULCCO-SP to make sure we are able to meet all the requirements has been fantastic and hopefully this is the first of many projects where we will work in partnership".